Wow, what a competition!
This year's Junior Worlds was full of surprises from start to finish. From dramatic comebacks in the men's and ladies' FSes to the Year Of Small Federation Champions to THAT ISU BIO and, most recently, a decisive victory by yet another powerhouse American ice dance team (it's like the Russian ladies and I LOVE IT SO MUCH!), it was an event unlike any other and I'm sure I will come away from this with very fond memories of the craziness that went down here.
So, in the Grand IceNetwork Variety Post Tradition, I am closing the "Hungary" For Gold post series with a best-dressed analysis. 🙂 There will be one costuming winner in each segment of the competition-ladies SP and FS, men's SP and FS, SD and FD, and pairs SP and FS-and winners in a few other random categories. (The skater's placement is indicated in parenthesis.)
Best-Dressed in the Ladies SP: Marin Honda (1st) 
Marin Honda may have won the Junior World title, but that isn't the only thing she won this weekend: she's also the winner of the best-dressed award for the ladies SP. 🙂 I love the multicolored skirt (which seems to be designed to look like a flower, and looks awesome when she spins) and the pale pink color is very flattering on her. Very delicate and feminine, which went perfectly with her "Spring Sonata" short program.
Best-Dressed in the Ladies FS: Tyler Pierce (6th)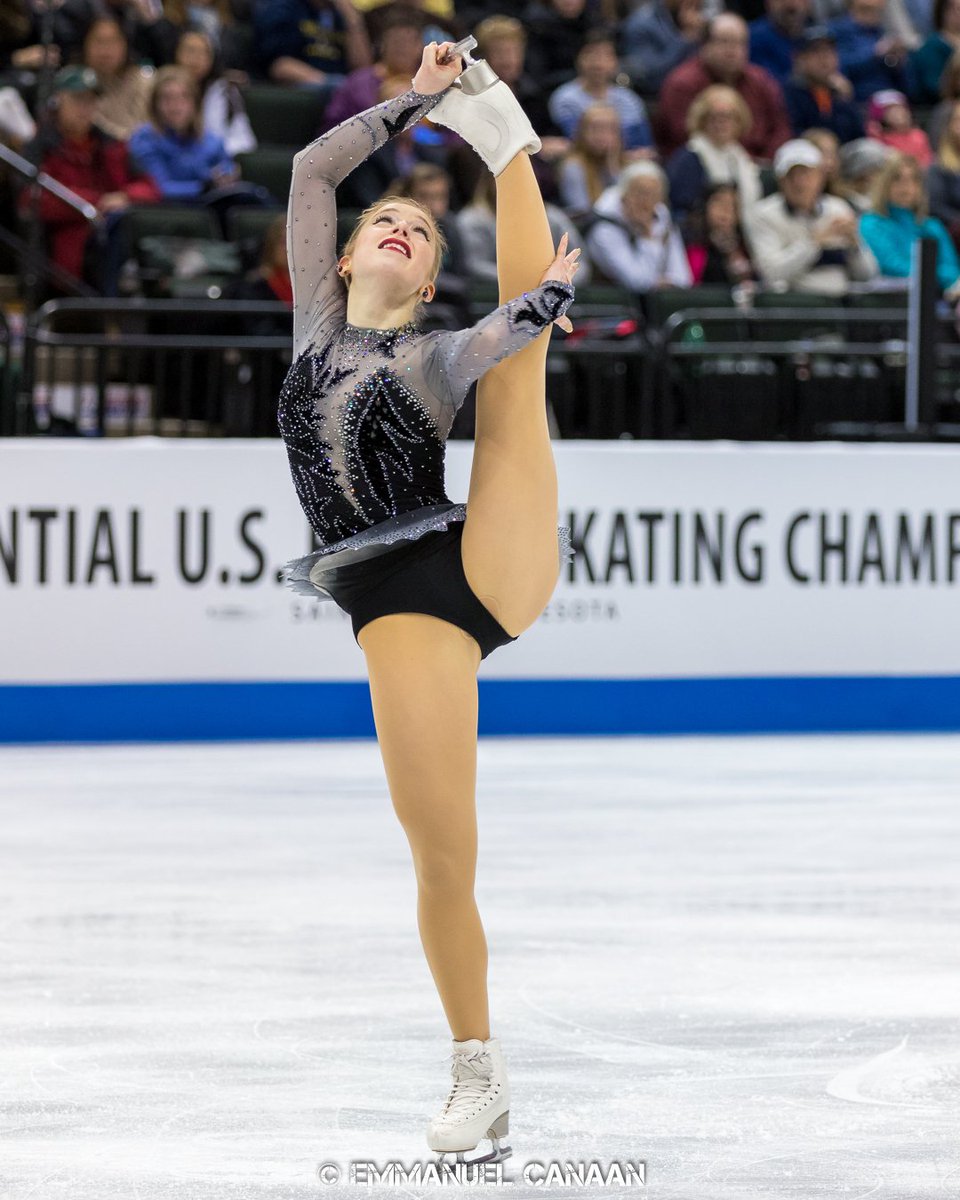 It is a bit hard to see the smaller details on this dress in the picture (the only one I could find that was okay-quality and showed the dress in full), but wow, this is one intricate dress. It must've been extremely labor-intensive to make all those little jagged cutouts on the bodice, not to mention hand-applying the crystals (and there are obviously a lot of them)! But I think my favorite thing about it is actually the sleeves. For some reason, I am obsessed with colored mesh sleeves, and the grey mesh under the black fabric looked absolutely stunning. Also, the neckline is perfection. The whole thing is stunning, and as "Danse Macabre"-ish a dress as you could find.
Best-Dressed in the Short Dance: Rachel Parsons/Michael Parsons (2nd)
As is usually the case in ice dance, Michael's costume is fine and suitably non-crazy, but it's Rachel's dress that catches your eye-and it's gorgeous. The gold sparkly stuff (is it glitter or crystals? I'm not sure) looks amazing on the white chiffon, and the illusion mesh sleeves actually match her skin!!! The mock turtleneck was a nice touch. Really, everyone should be getting their costumes from whoever made these.
Best-Dressed in the Free Dance: Marjorie Lajoie/Zachary Lagha (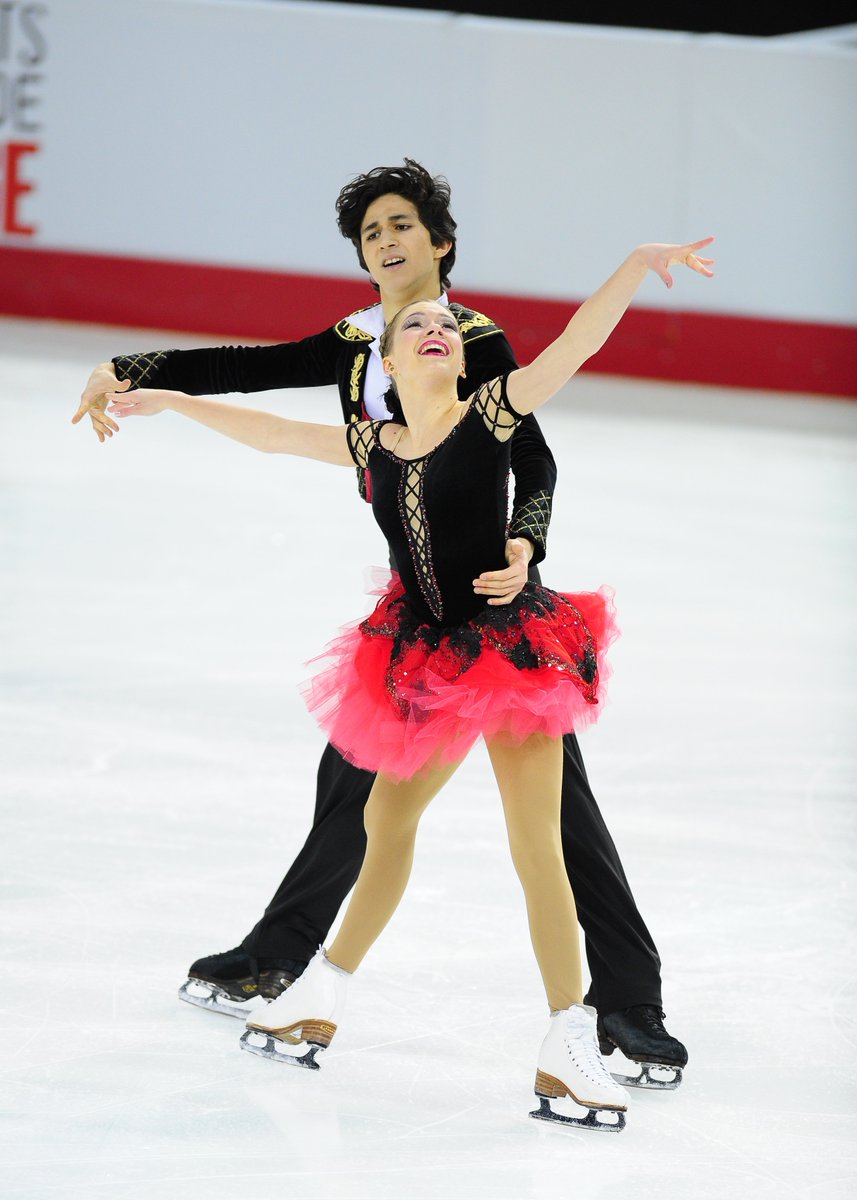 In addition to fringe skirts (see below), I am a total sucker for elaborate tutus (two words: Elena Ilinykh) and these costumes were really nice. Zachary is basically wearing your average paso doble SD costume (they're skating to Don Quixote). But, again, it's the girl's dress that's meant to catch your eye: the lacing on the sleeves was extremely cool and like nothing I'd ever seen before, and the tutu looked like it had sparkly butterfly wings on it…which somehow worked.
Best Dressed in the Pairs SP: Bryn Hoffman/Bryce Chudak (8th)
As you can probably tell from the costumes, this was a "Chicago" program, and these costumes are, indeed, very "Chicago"-y. The fringe skirt on Bryn's dress looked really cool in flight (did that sound as weird as I think it did?) and the sparkly geometric details on the bodice were a fun touch. Bryce was wearing suspenders, which I will only accept in 1920's-themed programs (which this was…obviously), but otherwise his costume was a bit boring…oh well. The pairs short didn't have any particularly fantastic costumes, IMO, so I had to pick something and these were the best I could find.
Best-Dressed in the Pairs FS: Anastasia Mishina/Vladislav Mirzoev (2nd)
I was originally going to go with Borisova/Sopot's costumes for this, but after actually writing it up I realized I had way too many criticisms of them and my little blurb sounded like a really long backhanded compliment. (However, I came up with an analogy that compared Dmitry Sopot's shirt to the Nazca Lines that I felt that warranted a mention, so I'm mentioning it. 😉 ) I went with my safer option instead (these), and I realize now that I like them a lot more. Vladislav looks normal and nothing on his costume could be compared to oversized Peruvian petroglyphs, so that is a costuming success in my book. And Anastasia's dress is very fun: a green fringe skirt and  a sparkly spandex bodice with a one-shoulder neckline sounds like it should be a major costuming misfire, but looks surprisingly great. Sassy and shiny and very 20's-ish (if you haven't already guessed, I love all things 1920's in skating-fringe skirts, ice dance Charleston and Finnstep SDs, you name it…)
Best-Dressed in the Men's Short Program: Deniss Vasiljevs (8th)
If I had to design a costume for a "Puttin' on the Ritz" program, it would probably look somewhat like this. Very snazzy. 😉
Best-Dressed in the Men's Free Skate: Daniel Samohin (1st)
I like men's costumes to be interesting and colorful and fitting to the program without being weird or crazy. This is interesting, colorful and fitting to the music without being weird or crazy, so I obviously liked it. For some reason I particularly like the red satin collar and back of the vest. I legitimately have no idea why…also, any costume that manages to incorporate a cravat without making the skater look like a bad Mozart impersonator is doing something right. 😉
The Takahito Mura Award for the Best Costume That's So Weird It Works: Maria Golubtsova/Kirill Belobrov (18th) 
I am glad I decided to watch the earlier groups of the FD despite the fact that they didn't have any medal contenders in them, because if I didn't, I would've missed these gloriously literal costuming disasters. This Ukrainian team whose names I can barely spell skated to the Super Mario Brothers soundtrack-as you probably guessed already-and apparently someone thought they needed to wear the most literal costumes imaginable. And they remind me of one of the reasons I love ice dance: in what other sport would you ever see someone competing with a rhinestone mustache on their chest? I almost can't believe this exists, but it is for the good of humanity that it does. :p
Best Costume Featuring Bad Modern Art: Kevin Aymoz (9th)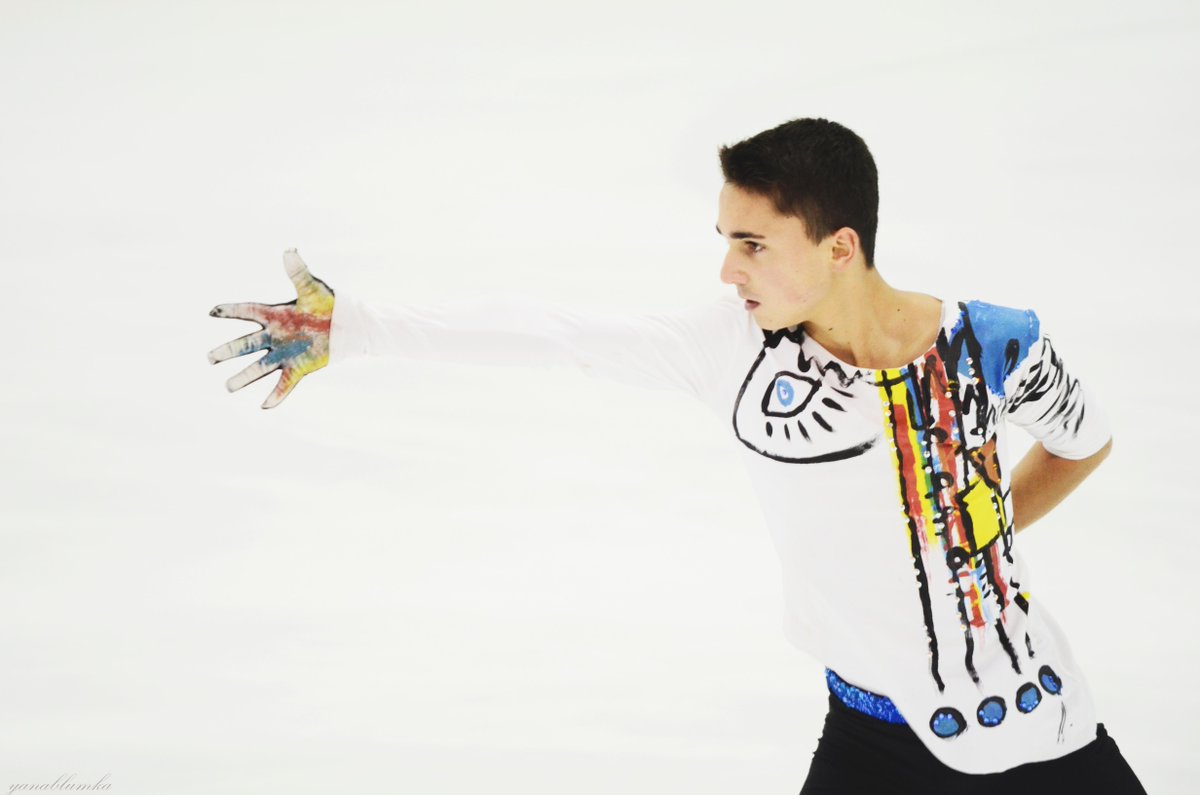 As I once said of Ruslan Zhiganshin's FD costume: "Give me one good reason you should ever have a face on your shirt."
Actually, I am not sure this is even a face. It's more like an eye and some weird squiggly lines…
I am officially out of ideas for awards to give here, so I'm going to wrap it up. Hope y'all enjoyed this post and the Junior Worlds series in general. 🙂