Yup, it's back!
This is the fourth of seven planned posts in the Favorite Things series, and I have been thinking about what I will include in it all day, so hopefully I won't leave anything out. (STILL kicking myself for leaving out Tobias/Tkachenko's Free Dance from the free skates post…)
Anyway, this is structured the same as the last post: top five costumes in each segment of each discipline. So…here goes!
Top Three Pairs Short Program Costumes 
Wenjing Sui/Cong Han ("Spanish Romance")
Despite the fact that Sui's dress is the stuff my eight-year-old dreams were made of (it's PINK and PURPLE and SPARKLY!), I appreciated this lovely slap-in-the-face to anyone who thinks you can't wear pink without looking juniorish. His is fine, too.
Non-costume-related note: Sui had a ligament surgery in her ankle (I believe that is what it was-sorry if incorrect) earlier today. I wish her/them a full and fast recovery and hopefully they will not have to sit out the whole season, which would make the pairs event 88% less interesting.
2. Aliona Savchenko/Bruno Massot ("Creature de Siam")
Bruno looks like a waiter, but I will forgive that because Aliona's dress, while not shown in its full spectacularity in this picture, reaches a level of sparkliness beyond what I thought was possible.
(No, seriously. I watched them compete at worlds from the top of the Loge seating and it was blindingly sparkly even up there. No wonder Bruno looks like a waiter…they probably used up their whole costume budget on Aliona's bling!)
3. Tarah Kayne/Daniel O'Shea ("Take Me To Church")
Not the best picture, but these were lovely. The burgundy color (is that the right name for it?) was very striking, and I loved the draped bodice and one-shoulder sleeve thing (*applause for word choice*) on Tarah's dress. Basically, as long as the man does not look like a waiter, a vegetable (#BlueLettuce), or a 18th-century agrarian, I don't care what he's wearing…so this shirt was fine. I liked that they matched, actually. Not many pairs color-coordinate, LOL.
Top Three Pairs Free Skate Costumes 
Wenjing Sui/Cong Han ("Samson and Delilah")
This is one of the only costumes on this list where I felt the man's costume was on par with the lady's: I'm not sure how to describe it, but it's eye-catching and goes with the program…and doesn't look like a waiter, vegetable or agrarian. Woohoo. But even so, Sui's dress was still the standout: that shade of blue is my favorite color, and I love the asymmetrical tiered skirt and the wavy rows of crystals. Okay, I admit I'm a sparkle fiend, but it really does make an impact when the crystals on a dress are somewhat directional (like I said in the ladies' costume post).
2. Ksenia Stolbova/Fedor Klimov ("Man and Shadow")
Again, I am willing to overlook a subpar costume from the man (Fedor, please refrain from wearing loungewear in the future-this is an international athletic event, not a Netflix marathon!) because the woman's costume is so great. I usually hate neutral-colored costumes because they tend to look bland, but the draping and the ribbon-looking things on Ksenia's dress make it very interesting and extremely chic. It really matched the somber, somewhat "heavy" feel of Stolbova/Klimov's free skate.
However, Fedor needs to stop wearing pajamas on international television.
3. Tarah Kayne/Daniel O'Shea ("Music of the Night")
There have been so many POTO programs that, both in terms of the program itself and the costumes, it's hard to make yours stand out. I think these costumes worked because of their simplicity: neither costume was very sparkly or colorful, and in this case, that was apparently what this program needed. I especially liked the use of lace trim on Tarah's dress-normally that makes the dress look like a nightgown, but in this case it didn't. Points for that, and also for managing to make a black, non-sparkly dress that wasn't boring.
(I don't understand Danny's affinity for man-blouses, but he does not look like a farmer, vegetable or waiter, so I will let it slide.)
Top Three Short Dance Costumes 
Alexandra Stepanova/Ivan Bukin ("The Stunt Man" Soundtrack)
Orange costumes are strangely rare in any discipline, let alone ice dance.
Attractive orange costumes are practically an extinct species.
So despite the atrocity that is Ivan's vest, these costumes win the short dance category on the sheer perfection of Alexandra's Bedazzled Background Dancer In A Florida Orange Juice Commercial Dress™. Because anyone who can make an eye-searing shade of orange look beautiful has my utmost respect.
(JK, I actually love pretty much all orange dresses. This one was probably my favorite costume of the entire season in any discipline.)
2. Anna Cappellini/Luca Lanotte ("The Merry Widow")
There are many things I love about these costumes:
Anna's dress looks like a vintage 1950's wedding dress. (Along with anything 20's-inspired, I dig 50's-inspired costumes. Yes, I just said "dig", get over it. #ProudDork)
Luca is wearing a vest and a tie but doesn't look like a waiter at the Cheesecake Factory.
These were a much-needed change from the cringeworthy pink fur boa nightmare things they wore earlier in the season. (I always like costumes more if they're a change from a costume I didn't like.)
As I said in the singles post, I like white dresses a lot-I think white is probably my favorite color of skating costumes, actually (along with purple)-so it was rather inevitable that this A. white, B. Sparkly and C. 50's-looking dress was going to end up on this list. And Luca's costume isn't A. all one neutral color or B. a waiter/vegetable/farmer, so I approve.
3. Madison Chock/Evan Bates ("More"/"Unchained Melody")
I try not to be insanely pro-American in my posts because, although I admittedly sometimes am in my head, it makes me look rather unprofessional. So I tried to limit this list to one American per category, even if it was hard and I was tempted to throw in extra spots and make it top 5 so I could put in the 85 teams whose costumes I loved at Nationals or whatever. However, I decided to be unpatriotic, stop giving Cannuscio/McManus every possible award (I LOVE THEM, OKAY?!?), and stick to one. Chock/Bates were the obvious choice, even though Madison's costume screams "prom dress" (which, actually, I didn't mind, because looking at prom dresses is one of my guilty pleasures-LOL?). Evan's costume is fine, if borderline waiterish, but as usual, Madison is the "costume star". I loved the sparkly draped bodice and the teal underskirt; also, the skirt was delightfully twirly and I would always stare at it when they twizzled. I have heard that Madison designs their costumes, so if she designed this one, she did very well with it. 🙂
Plus, the illusion mesh actually matched her skin, which is unfortunately rare considering that that is kind of the point of illusion mesh.
Top Three Free Dance Costumes 
Anna Cappellini/Luca Lanotte ("La Dolce Vita")
This was as close as any team came to a perfect set of costumes this season: while Luca's costume could've been more interesting, Anna's dress is near the top of my all-time-favorite-dresses list. I've talked about it a lot-this was the most thorough recap of why I liked it-so I won't bother to write it up again. Suffice to say that it was magictastical. (Yes, I made that up. #ProudDorkReturns)
2. Isabella Tobias/Ilia Tkachenko ("Polovtsian Dances")
Tobias/Tkachenko were one of my favorite "discoveries" of this season. I kind of ignored them for most of the season but, when I saw them in person at Worlds, realized that that was a regrettable decision. Their Free Dance was fantastic, and I was going to put it on the favorite FDs list in the free skates post, but I forgot. However, I also loved their costumes, so I managed to get in a mention somewhere else. Isabella's dress was one of the most interesting ice dance dresses this season (just to be clear, I mean that in a good way). The faux necklace things on the neckline and bodice, and the black sparkly bits, were gorgeous, impactful, and went well with the somewhat Middle Eastern theme of the program (okay, I know that Polovtsian Dances isn't Middle Eastern, but it got the point across better than "Central Asian"!). Ilia looks fine, but Isabella's dress is kind of the "focal point" and it works out fine because when you have a dress like that, you need to show it off. :p
3. Maia Shibutani/Alex Shibutani ("Fix You")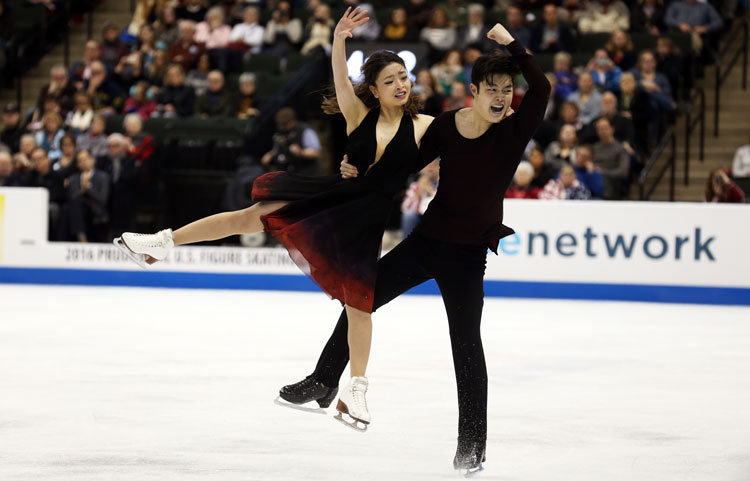 I admit I am more than slightly biased towards this program, but I thought these costumes were a perfect fit for it. I once read a costume recap from last year in which the author commented that Denis Ten's SP costume was rather simple so it wouldn't distract from the emotion of the program, and I feel like that was the point of these costumes. This free dance might not have been quite as effective with gaudy or overdone costumes-it might have been a bit distracting because this is not a gaudy program. So these costumes fit the bill: they were simple but not bland, and I don't think there was a single crystal anywhere on them. In a word, they were understated (as they should've been). Simply sublime.
Four down, three to go! Next up is what will probably be the longest post in this series, the Favorite Junior Things recap. I am planning to include a variety of things-programs, costumes, specific performances-so it might be a long one. I'm not sure when I'll get it finished, but stay tuned.